PLAY FOR GOAL 8
GOOD JOBS AND ECONOMIC GROWTH
WHAT'S THE GOAL?
Promote sustained, inclusive and sustainable economic growth, full and productive employment and decent work for all.
By 2020, substantially reduce the proportion of youth not in employment, education or training.
By 2030, achieve full and productive employment and decent work for all women and men, including for young people and persons with disabilities, and equal pay for work of equal value.
WHY DOES IT MATTER?
Encouraging entrepreneurship and job creation are key to economic growth, higher levels of productivity and technological innovation which will eradicate forced labour, slavery and human trafficking.
The goal is to achieve full and productive employment, and decent work, for all women and men by 2030.
CORNER GOALs
by Becca Todd, United Kingdom
Description of the game:
Every player represents a worker who gets paid when they score.
The players get paid in cones.
The hardest worker in the game will receive the most payment (in cones) and therefore will have earned the most and won the game.
2 RACES – 1 GAME
by Camilla Olsen, Denmark
Description of the game:
In a company or team you can be in direct competition with the opposing team or company, for example, when you are developing a similar product.
It requires cohesion and cooperation to be competitive. Therefore, everyone's powers and abilities must be put into play.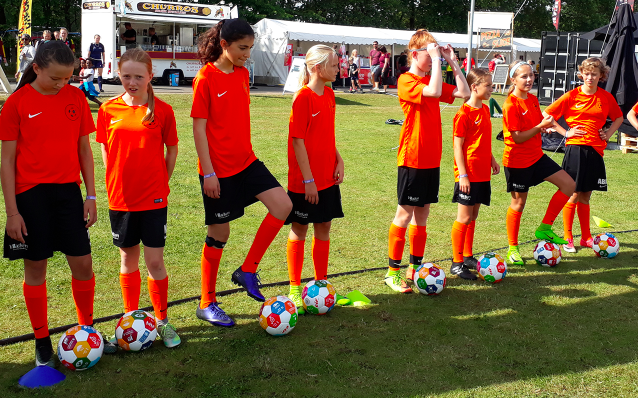 BIB TAG
by Camilla Olsen, Denmark
Description of the game:
In our society, and worldwide, the goal is to have a low unemployment, which requires a joint effort where we hear and see everyone.
If you are working you must be active to keep your job – if you lose your job, you must draw attention to yourself, your abilities and apply for jobs.
To keep people active and working requires joint action in society and everyone takes responsibility.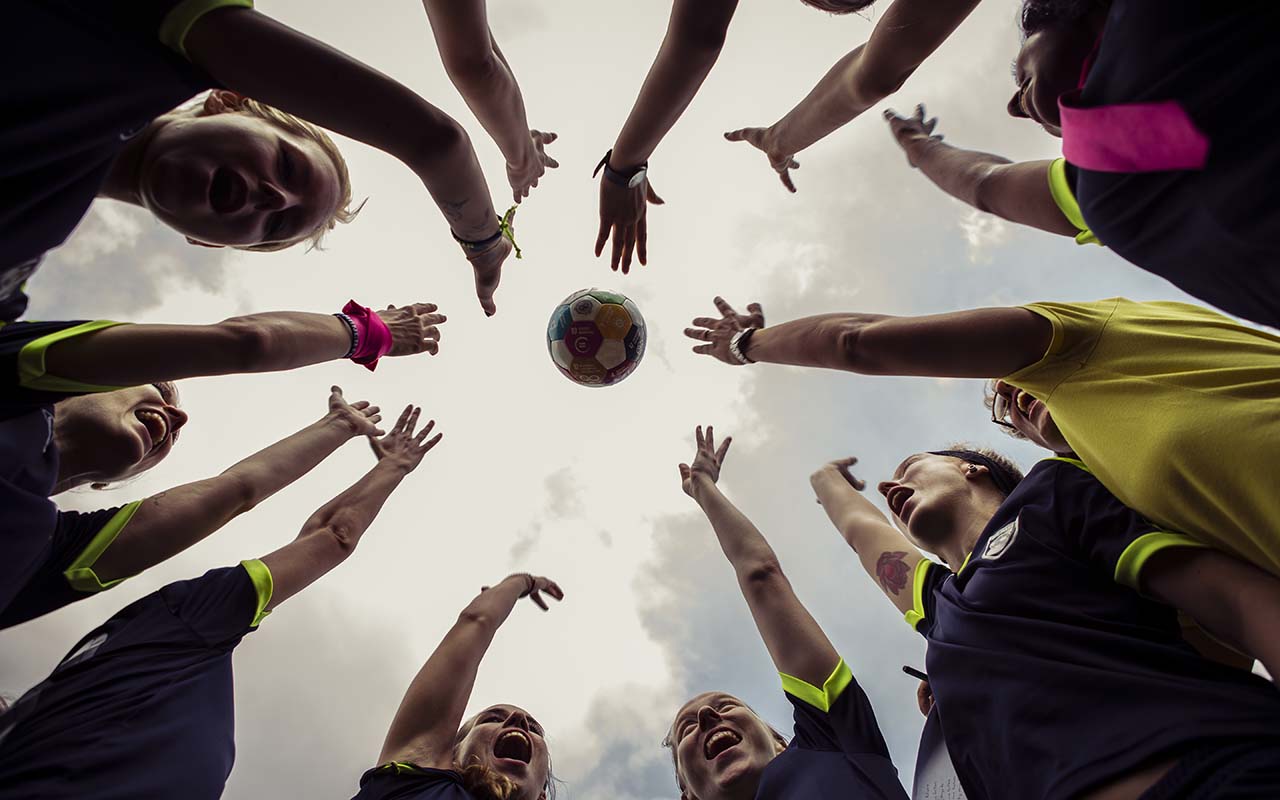 CIRCLE TAG
by Camilla Olsen, Denmark
Description of the game:
Teamwork. Players have to constantly be alert, work together and move as one team.
It is tiring constantly struggling to get into a the strong group (the four collaborating).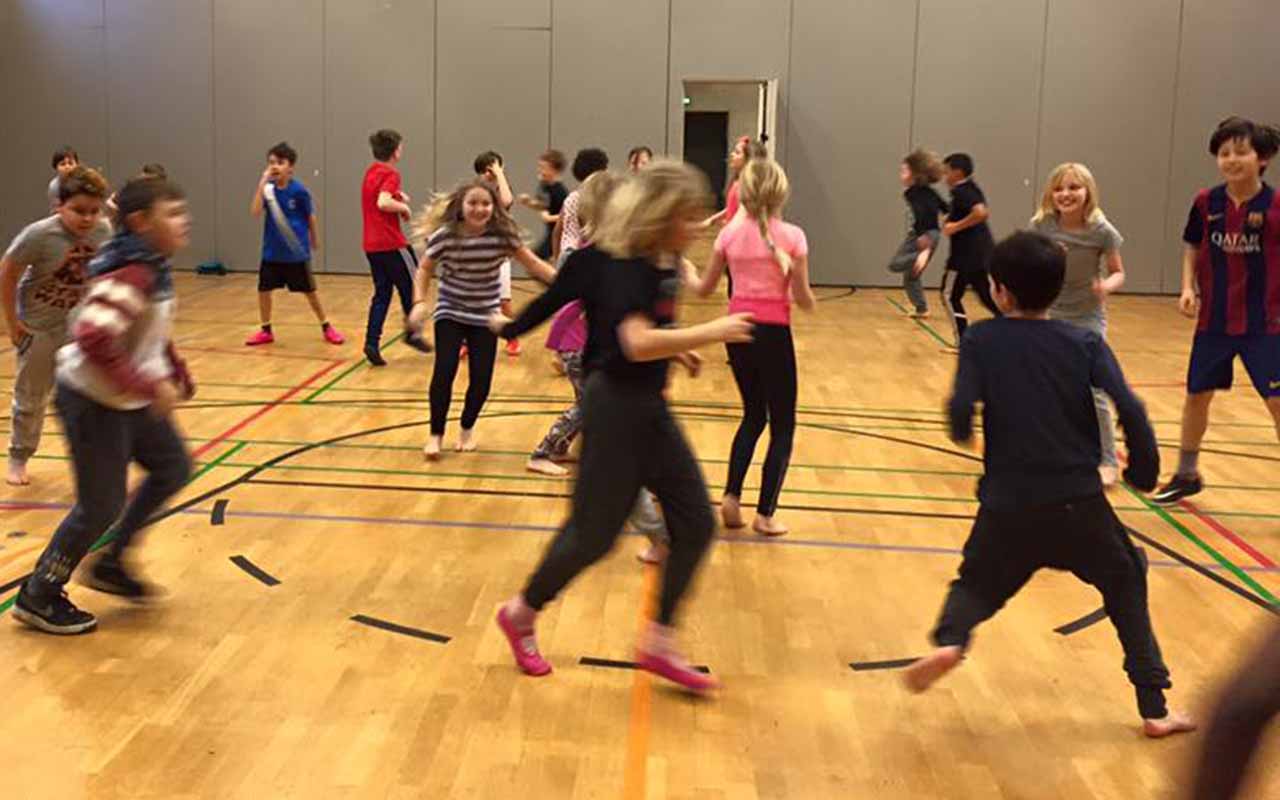 Create GAME SITUATION
There are so many great ways to create a game. Allow the players to be quite creative with this by introducing the goal at the beginning of the match and asking them how this could be included:  Do one team have a big goal and the other a small. Do everybody play with a glas of water or change a rule every minute. 
A simple way to bring in the Global Goals when playing a match, is that every time a team scores or make a save, or during a water break they can double their points or get a point by stating a Global Goal and what they could do to help promote this in their community. Easiest to play small side games with 3-6 players, so they can hear each other.
You can always have several games going at the same time. There are some rule ideas under Goal 17.
PUT YOUR TRAINING IMPACT ON THE MAP
If you have time, give the players a chance to talk solutions, and how they them selve can do something in their every day.
How did your company work? Everyone helped create the product (got the bib safely to the next in line)
What does cooperation mean? What happens if you do not cooperate?
What is important for a business?
Why is it not an option to earn good money in every country in the world?
Why are there wealth dividers, and what are they?
Why are there gender pay gaps?
What other global goals is supported when reaching this goal?
Your TRAINING IMPACT counts. Share it here
DID YOU CREATE A NEW IMPACT GAME TODAY?
When you and your players create your own drills for the global goals, please share it. Every game counts.
Describe your game in a drawing and add a few words and send it to us.
As a thank you we will share your Impact Game under the relevant Goal here on the website and of course crediting you and your team!
Your IMPACT GAME counts. Share it here
PUT YOUR TRAINING IMPACT ON THE MAP
Our good friends at World's Largest Lesson have done amazing work developing educational material that can be used in schools, clubs and home for children all ages.
Go to World's Largest Lesson