PLAY FOR GOAL 7
RENEWABLE ENERGY
WHAT'S THE GOAL?
Ensure access to affordable, reliable, sustainable and modern energy for all
1.1 billion people still live without electricity. Access to modern energy is crucial to improving security, health and education. .
By 2000 79 % of the world population had access to electricity.
By 2015 85 % of the world population had access to electricity.
BY 2030 ensure universal access to affordable, reliable and modern energy services.
WHY DOES IT MATTER?
"The answer is to end our reliance on carbon-based fuels…
If we succeed, we create booming new industries, wealth, clean secure energy and maybe we prevent the greatest disaster so far in human history, saving millions of lives while improving billions more. If we fail, basically it's business as usual while things slowly get worse all around us" – Al Gore.
ENERGY FOREVER
by Becca Todd, United Kingdom
Description of the game
Different moves represent different types of energy.
Cartwheels represent wind energy and sustainable energy.
Forward roll represents wave energy and sustainable energy.
Balance represent solar energy and sustainable energy.
Situp represents fossil energy.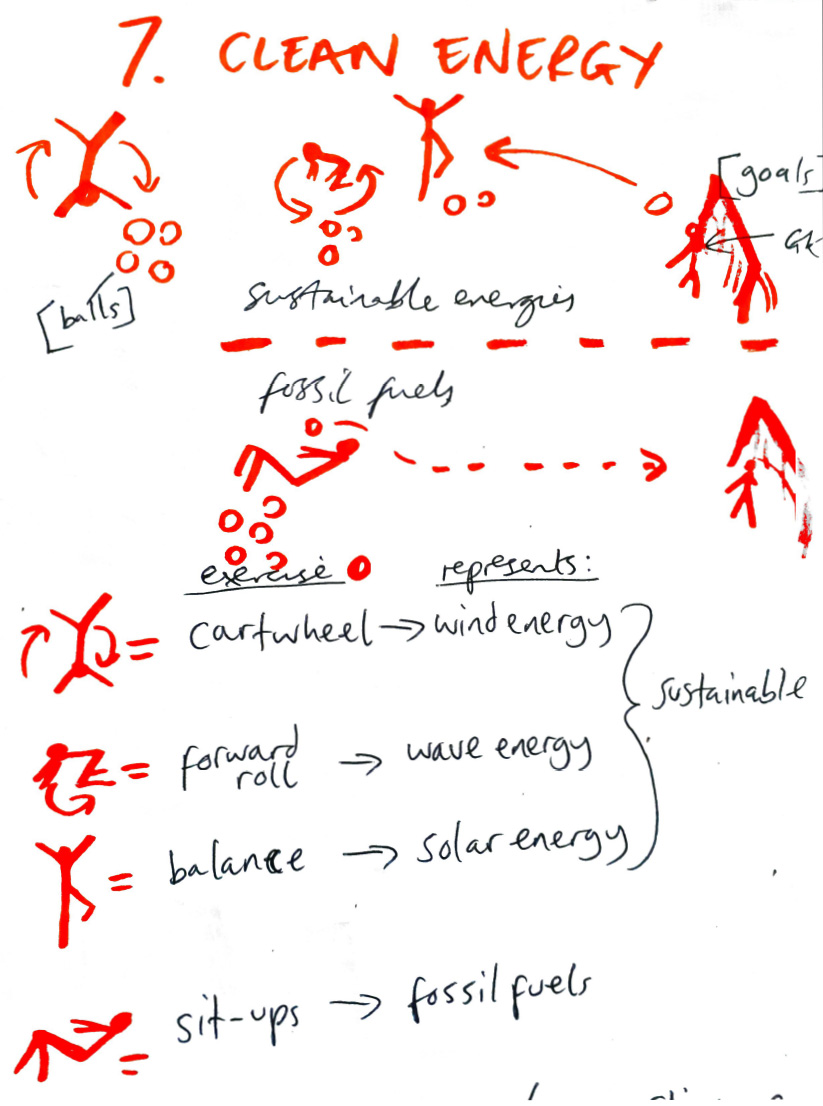 Energy Boost
Description of the game
This week we focused on kicking technique, learning how to kick the ball as hard as possible.

We talked about that energy could be made by something moving really hard, and hitting something really hard.

The players therefore had to kick the ball towards the goal as hard as possible, using the techniques we had been talking about.

The focus was not on being precise, but on making as much energy as possible by kicking the ball really hard, and feeling the power they put into the ball.

Try to kick to different size balls and see what different type energy it takes. the energy to move the ball from the foot, hand or head.
Create GAME SITUATION
There are so many great ways to create a game. Allow the players to be quite creative with this by introducing the goal at the beginning of the match and asking them how this could be included:  Do one team have a big goal and the other a small. Do everybody play with a glas of water or change a rule every minute. 
A simple way to bring in the Global Goals when playing a match, is that every time a team scores or make a save, or during a water break they can double their points or get a point by stating a Global Goal and what they could do to help promote this in their community. Easiest to play small side games with 3-6 players, so they can hear each other.
You can always have several games going at the same time. There are some rule ideas under Goal 17.
PUT YOUR TRAINING IMPACT ON THE MAP
If you have time, give the players a chance to talk solutions, and how they them selve can do something in their every day.
What happens if we only use fossil energy fuels?
What are renewable energy sources?
What other global goals is supported when reaching this goal?
Your TRAINING IMPACT counts. Share it here
DID YOU CREATE A NEW IMPACT GAME TODAY?
When you and your players create your own drills for the global goals, please share it. Every game counts.
Describe your game in a drawing and add a few words and send it to us.
As a thank you we will share your Impact Game under the relevant Goal here on the website and of course crediting you and your team!
Your IMPACT GAME counts. Share it here
WANT TO LEARN MORE ABOUT WHAT YOU CAN DO TO SUPPORT THE GOAL?

Our good friends at World's Largest Lesson have done amazing work developing educational material that can be used in schools, clubs and home for children all ages.
Go to World's Largest Lesson