PLAY FOR GOAL 6
CLEAN WATER & SANITATION
WHAT'S THE GOAL?

Ensure availability and sustainable management of water and sanitation for all. Access to water, sanitation and hygiene is a human right, yet billions are still faced with daily challenges accessing even the most basic of services.
Unsafe sanitation spreads diseases such as cholera, diarrhea, and dysentery, which are responsible for hundreds of thousands of deaths every year.
WHY DOES IT MATTER?

Water and sanitation related diseases remain among the major causes of death in children under five; more than 800 children die every day from diarrhoeal diseases linked to poor hygiene. Proper water and sanitation is a key foundation for achieving the Sustainable Development Goals, including good health and gender equality.
Clean Water
by Becca Todd, United Kingdom
Description of the game
Players represent clean water.
When the players put on a bib, they get polluted.
The obstacles (cones etc) are representing a filter.
The goal represent a thirsty mouth.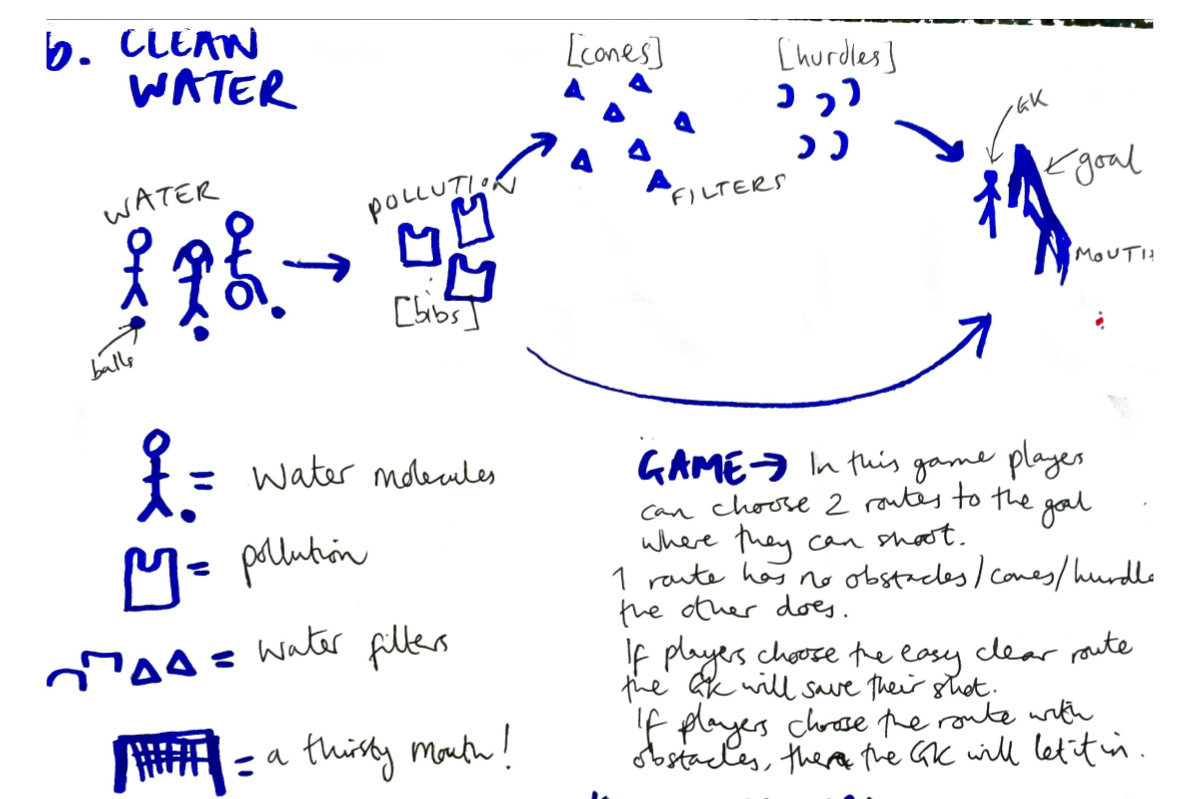 The Toilet Dance
by Camilla Olsen, Denmark
Description of the game
This game is a simple way start a conversation about sanitation or lack of sanitation/latrines/toilets. 
How To Play 1
If you have music then let them dance around. Have cones lined up like it was a "around the chairs" dance (stop dance) – one cone less than players.
As soon as the music stops every player needs to find a cone and pretend to sit on it like they are sitting on a toilet.
Who ever does not get a "toilet" is out of the dance, and gets a question.
If they can answer the question the player can stay in the Dance or you can ask if they have done something for the world that day. That can also keep them in the dance. 
Organisation
Area: Any size that you have can work.

Materials: Balls and cones (maybe music). 
Impact Games for Goal 6 & Goal 13, Hellerup School, Denmark.
Advance The Game 
You can add information about sanitation under each cone. so when they sit on the "toilet" you can ask one player to take the note and read a Toilet Story to everyone else. make the kids keep fake sitting while the note is being read, to keep a little body work going sitting in a squad.
Create GAME SITUATION
There are so many great ways to create a game. Allow the players to be quite creative with this by introducing the goal at the beginning of the match and asking them how this could be included:  Do one team have a big goal and the other a small. Do everybody play with a glas of water or change a rule every minute. 
A simple way to bring in the Global Goals when playing a match, is that every time a team scores or make a save, or during a water break they can double their points or get a point by stating a Global Goal and what they could do to help promote this in their community. Easiest to play small side games with 3-6 players, so they can hear each other.
You can always have several games going at the same time. There are some rule ideas under Goal 17.
PUT YOUR TRAINING IMPACT ON THE MAP
If you have time, give the players a chance to talk solutions, and how they them selve can do something in their every day.
What causes water pollution?
How can we reduce water pollution?
What are the effect of water pollution on humans/fish/animals/plants?
What other global goals is supported when reaching this goal?
Your TRAINING IMPACT counts. Share it here
DID YOU CREATE A NEW IMPACT GAME TODAY?
When you and your players create your own drills for the global goals, please share it. Every game counts.
Describe your game in a drawing and add a few words and send it to us.
As a thank you we will share your Impact Game under the relevant Goal here on the website and of course crediting you and your team!
Your IMPACT GAME counts. Share it here
WANT TO LEARN MORE ABOUT WHAT YOU CAN DO TO SUPPORT THE GOAL?
Our good friends at World's Largest Lesson have done amazing work developing educational material that can be used in schools, clubs and home for children all ages.
Go to World's Largest Lesson