PLAY FOR GOAL 3
GOOD HEALTH & WELL-BEING
What's the goal?
To ensure healthy lives and promote well-being for all at all ages.
Ensuring healthy lives and promoting well-being for all at all ages is important to building prosperous societies.
Why does it matter?
Despite great strides in improving people's health and well-being in recent years, inequalities in health care access still persist. More than six million children still die before their fifth birthday each year, and only half of all women in developing regions have access to the health care they need.
TIME TO WARM-UP
While you warm-up and play one on one, you can ask the players to think about:
How the work of one individual can create positive progress toward a collective Global Goal?
How can an active life help you not catch illness?
Click here and get more warm-up ideas
Global Goals Impact Games with Becca Todd, Dana Cup, Denmark.
Health Slalom
by Becca Todd, United Kingdom
DESCRIPTION OF THE GAME
The balls represents illness, diseases or problems.
The distance from one cone to the other represents the life of a person.
The player running across the pitch is representing travelling through life.
HOW TO PLAY
One player has to run from one cone to the other.
The one player running needs to avoid the balls to safely reach the end.
The other players line up and kick the ball at a good (but safe) pace trying to hit the legs of the player running through.
VARIATION
Add "guards" to protect the running players.
ORGANISATION
Players: Minimum 1 player running and 4 players on each side.
Area: Any size that you have can work
Materials: 2 cones at either end of the area to run to. A ball for each player (or they could share)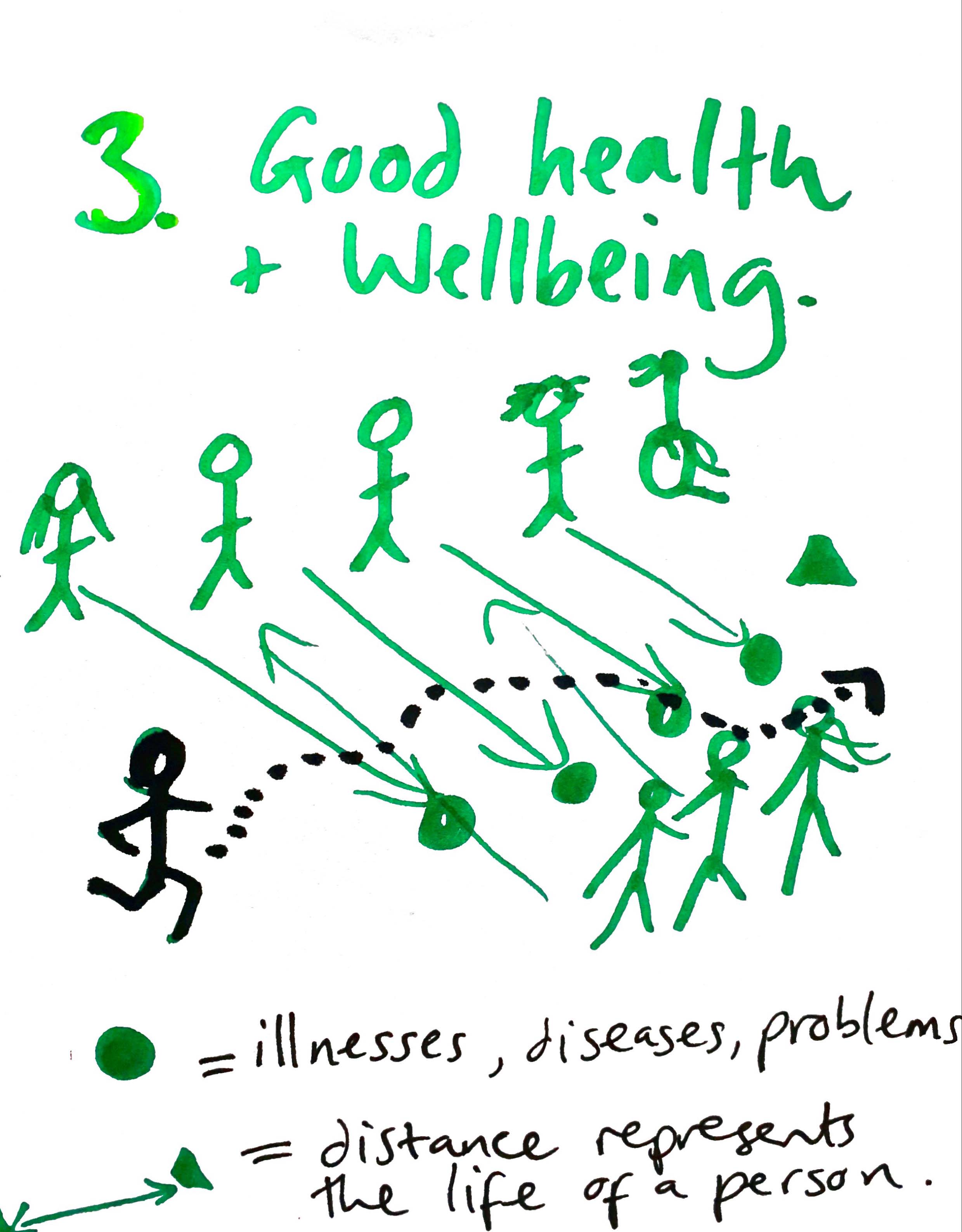 FOOTBALL Tip for the runners
Run quickly, with lots of changes of direction and with your head up to be aware of the balls travelling towards you so that you can jump and dodge.
FOOTBALL Tips for the players passing the balls
Share and recycle the balls so that you get more attempts to pass the balls across multiple times.
Use the inside of your foot for better accuracy (it has a larger surface area than other parts of the foot).
Anticipate the forwards running of the player, so pass the ball slightly in front of where they are.
Cooperate with your team mates to target certain players- it's easier if you work together!
Create Game situation
There are so many great ways to create a game. Allow the players to be quite creative with this by introducing the goal at the beginning of the match and asking them how this could be included:  Do one team have a big goal and the other a small. Do everybody play with a glas of water or change a rule every minute. 
A simple way to bring in the Global Goals when playing a match, is that every time a team scores or make a save, or during a water break they can double their points or get a point by stating a Global Goal and what they could do to help promote this in their community. Easiest to play small side games with 3-6 players, so they can hear each other.
You can always have several games going at the same time. There are some rule ideas under Goal 17.
PUT YOUR TRAINING IMPACT ON THE MAP
If you have time, give the players a chance to talk solutions, and how they them selve can do something in their every day.
What does your own health have to do with Goal 3?
What can you do to stay healthy and protect your body?
How can you promote and protect the health of people around you?
Discuss how you can help reach Good Health & Well-being in your community / in the world.
Discuss how the players can drive the change and promote better health for all.
What other Goals are supported when reaching this Goal?
Your IMPACT TRAINING counts. Share it here
DID YOU CREATE A NEW IMPACT GAME TODAY?
When you and your players create your own drills for the global goals, please share it. Every game counts.
Describe your game in a drawing and add a few words and send it to us.
As a thank you we will share your Impact Game under the relevant Goal here on the website and of course crediting you and your team!
Your IMPACT GAME counts. Share it here
---
---
---
---
WANT TO LEARN MORE ABOUT WHAT YOU CAN DO TO SUPPORT THE GOALS?

Our good friends at World's Largest Lesson have done amazing work developing educational material that can be used in schools, clubs and home for children all ages.
Go to World's Largest Lesson