PLAY FOR GOAL 16
PEACE, JUSTICE AND STRONG INSTITUTIONS
WHAT'S THE GOAL?
Promote peaceful and inclusive societies for sustainable development, provide access to justice for all and build effective, accountable and inclusive institutions at all levels.
Develop effective, accountable and transparent institutions at all levels.
By 2030, significantly reduce illicit financial and arms flows, strengthen the recovery and return of stolen assets and combat all forms of organised crime.
By 2030, provide legal identity for all, including birth registration.
WHY DOES IT MATTER?
Peaceful, justice and inclusive societies are necessary to achieve the Sustainable Development Goals (SDGs). People everywhere need to be free of fear from all forms of violence and feel safe as they go about their lives whatever their ethnicity, faith or sexual orientation.
In order to advance the SDGs we need effective and inclusive public institutions that can deliver quality education and healthcare, fair economic policies and inclusive environmental protection.
TRIAL GAME
by Becca Todd, United Kingdom
Description of the game
How to diplomatic solve a conflict when in a 'heated' situation.
How To Play
Divide the players into two team and play a football match.
The players have take turns in being referee.
When the referee decides there has been a foul there will be a 'trial' and players need to vote on weather they think it was a foul or not and make a diplomatic discussion.
Players have to take it in turns to be the referee
ADVANCE THE GAME
Players can be pre-asked to do things against the rules to test the referee.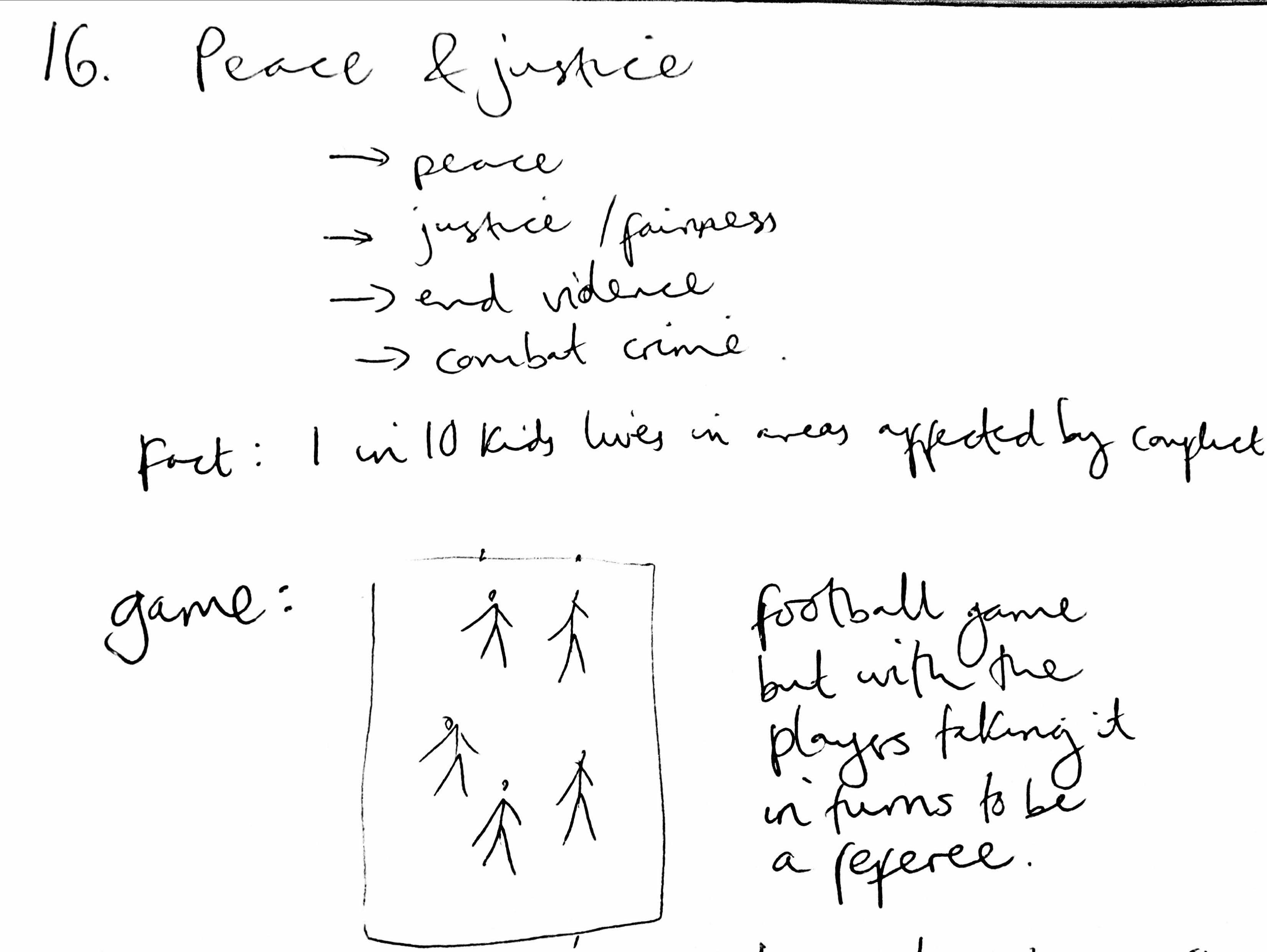 DO DEMOCRACY PEACE GAME 
by Majken Gilmartin, Denmark
Description of the game:
In this game we want to illustrate working and taking decisions together 

To reach the Global Goals we need all of us to work together in a peaceful way. In this game let all the players/teams decide on the rules together. And over a few games let them together pick different rules. 

Depending on the amount of players you have, make 2 or more small sided teams from 3 to 6 players on each team.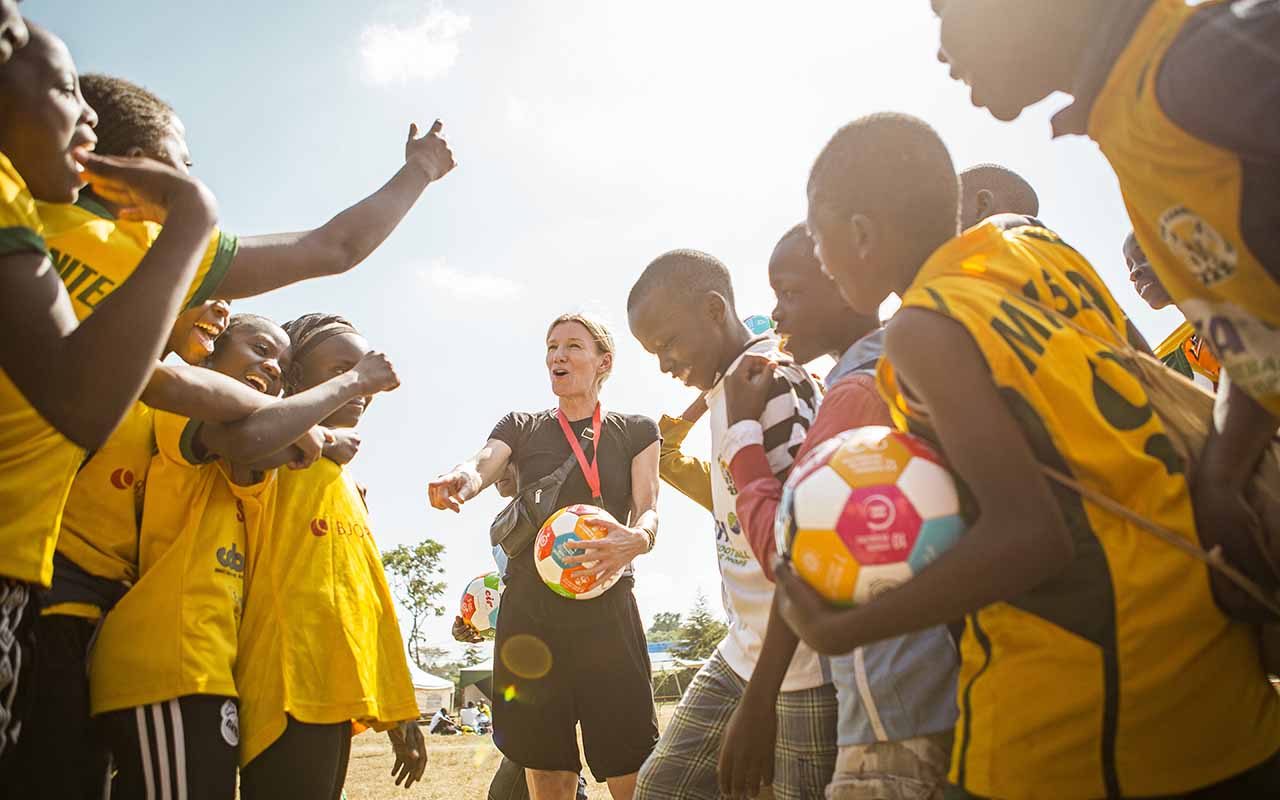 Create Game Situation
There are so many great ways to create a game. Allow the players to be quite creative with this by introducing the goal at the beginning of the match and asking them how this could be included:  Do one team have a big goal and the other a small. Do everybody play with a glas of water or change a rule every minute. 
A simple way to bring in the Global Goals when playing a match, is that every time a team scores or make a save, or during a water break they can double their points or get a point by stating a Global Goal and what they could do to help promote this in their community. Easiest to play small side games with 3-6 players, so they can hear each other.
You can always have several games going at the same time. There are some rule ideas under Goal 17.
PUT YOUR TRAINING IMPACT ON THE MAP
If you have time, give the players a chance to talk solutions, and how they them selve can do something in their every day.
What is fair… and how can you avoid a conflict.
Discuss peace and justice in real life.
Is freedom to express views important achieve the goal?
What can you do to promote Goal 16 and a functioning political and justice systems.
What other global goals is supported when reaching this goal?
Your TRAINING IMPACT counts. Share it here
DID YOU CREATE A NEW IMPACT GAME TODAY?
When you and your players create your own drills for the global goals, please share it. Every game counts.
Describe your game in a drawing (or a small video), add a few words and send it to us.
As a thank you we will share your Impact Game under the relevant Goal here on the website and of course crediting you and your team!
Your IMPACT GAME counts. Share it here
WANT TO LEARN MORE ABOUT WHAT YOU CAN DO TO SUPPORT THE GOAL?

Our good friends at World's Largest Lesson have done amazing work developing educational material that can be used in schools, clubs and home for children all ages. 
Go to World's Largest Lesson