PLAY FOR GOAL 11
SUSTAINABLE CITIES & COMMUNITIES
WHAT'S THE GOAL?
Make cities and human settlements inclusive, safe, resilient and sustainable.
Slum dwellers face significant exclusion by society and governments.
By 2000, 39 % of the urban population in developing regions were living in slums.
By 2015, 30 % of the urban population in developing regions were living in slums.
By 2030, all people will have access to adequate, safe and affordable housing.
By 2030, no one lives in slums.
You live in a city and are safe. Why should you care?
All these issues will eventually affect every citizen. Inequality can lead to unrest and insecurity, pollution deteriorates everyone's health and affects workers' productivity and therefore the economy, and natural disasters have the potential to disrupt everyone's lifestyles.
CITY BALL
by Becca Todd, United Kingdom
Description of the game
The balls represent resources in a city or community.
The bases in the corners represents a city or community.
Each team has to firstly take balls from the centre (in a relay set-up, one at at a time racing) and then when these run out work together to maintain a good number of balls in their base whilst taking balls from other cities and having their own balls taken.
STOP CLIMATE CHANGE
by Steven O'Reilly, Chelsea FC Foundation, Bangkok
Description of the game
Cones and or other materials represent a building in a sustainable city.
A number of players represent the sustainable community – the rest represent the climate change.
The sustainably community has to defend the building from getting knocked down by climate change.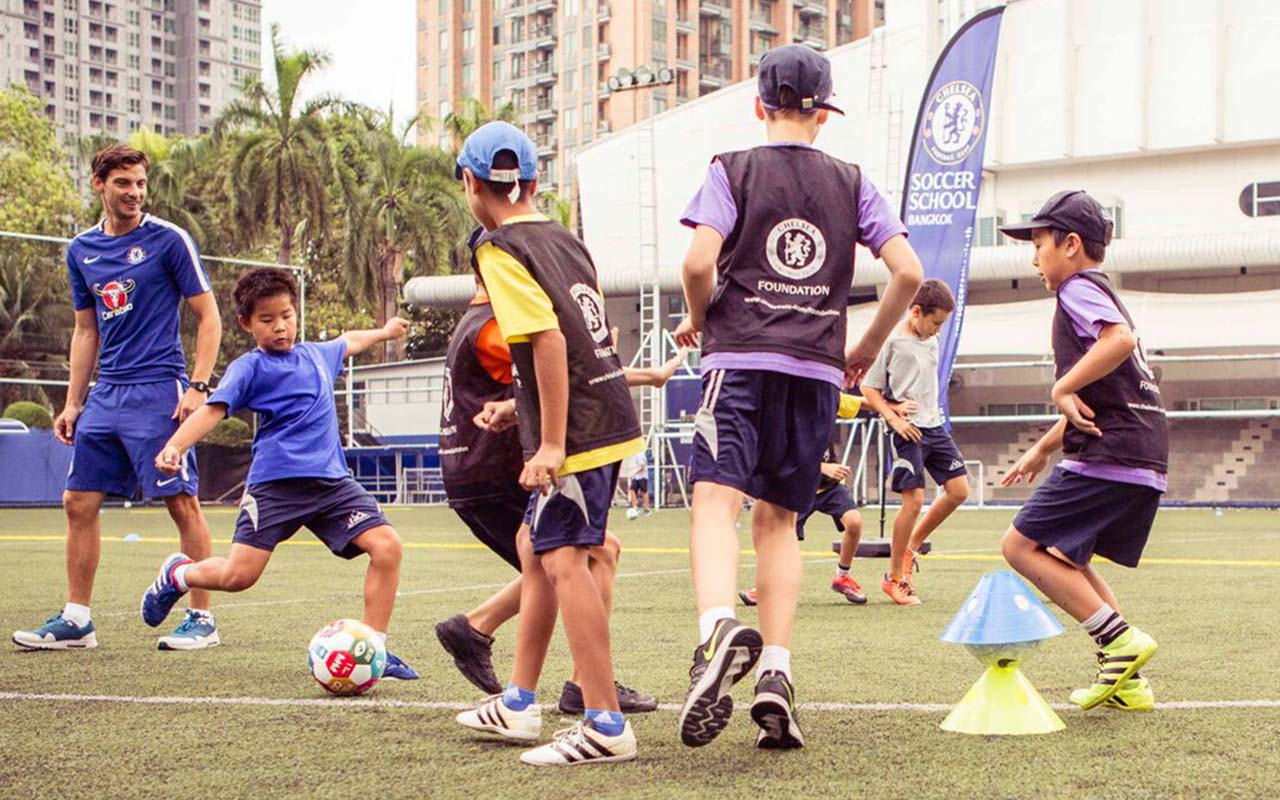 NO 1: GAME SITUATION
There are so many great ways to create a game. Allow the players to be quite creative with this by introducing the goal at the beginning of the match and asking them how this could be included:  Do one team have a big goal and the other a small. Do everybody play with a glas of water or change a rule every minute. 
A simple way to bring in the Global Goals when playing a match, is that every time a team scores or make a save, or during a water break they can double their points or get a point by stating a Global Goal and what they could do to help promote this in their community. Easiest to play small side games with 3-6 players, so they can hear each other.
You can always have several games going at the same time. There are some rule ideas under Goal 17.
NO 2: GAME SITUATION
Have 2 teams play each other. Any number – 2v2, 6v6 – each have buildings/cities to defend and some to knock down. You can choose that it count as a goal when one of the teams know down one of the buildings.
PUT YOUR TRAINING IMPACT ON THE MAP
If you have time, give the players a chance to talk solutions, and how they them selve can do something in their every day.
What makes a city and community sustainable?
What could you do in your own city or community to help make it sustainable?
Have you heard of a different kind of city/community? (Slum, suburban areas, capitals, small towns)
Is cities sensitive to Climate change?
What makes a great city?
What does it mean to ensure access for all to adequate, safe and affordable housing and basic services and upgrade slum?
What other global goals is supported when reaching this goal?
Your TRAINING IMPACT counts. Share it here
DID YOU CREATE A NEW IMPACT GAME TODAY?
When you and your players create your own drills for the global goals, please share it. Every game counts.
Describe your game in a drawing (or a small video), add a few words and send it to us.
As a thank you we will share your Impact Game under the relevant Goal here on the website and of course crediting you and your team!
Your IMPACT GAME counts. Share it here
WANT TO LEARN MORE ABOUT WHAT YOU CAN DO TO SUPPORT THE GOAL?

Our good friends at World's Largest Lesson have done amazing work developing educational material that can be used in schools, clubs and home for children all ages. 
Go to World's Largest Lesson