PLAY FOR GOAL 1
NO POVERTY
WHAT'S THE GOAL?
End poverty in all its forms everywhere.
More than 700 million people still live in extreme poverty and are struggling to fulfil the most basic needs like health, education, and access to water and sanitation, to name a few.
WHY DOES IT MATTER?
There are many reasons, but in short, because as human beings, our wellbeing is linked to each other. Growing inequality is detrimental to economic growth and undermines social cohesion, increasing political and social tensions and, in some circumstances, driving instability and conflicts.
POVERTY DRIBBLE
by Becca Todd, United Kingdom
Description of the game
Players work together against a smaller number of defenders to keep possession of several balls (depending on group size and ability. For example could be 10 players with 2 defenders and 6 balls).
The defenders represent "Poverty" and tackle the other team to get their balls (representing their money/possessions).
The other players are trying to keep the balls and avoid poverty.
Players need to communicate and help each other to stay safe and secure and share all the balls.
If one player loses the ball to poverty he/she has to communicate with her team mates and try to keep the other balls away from the defenders.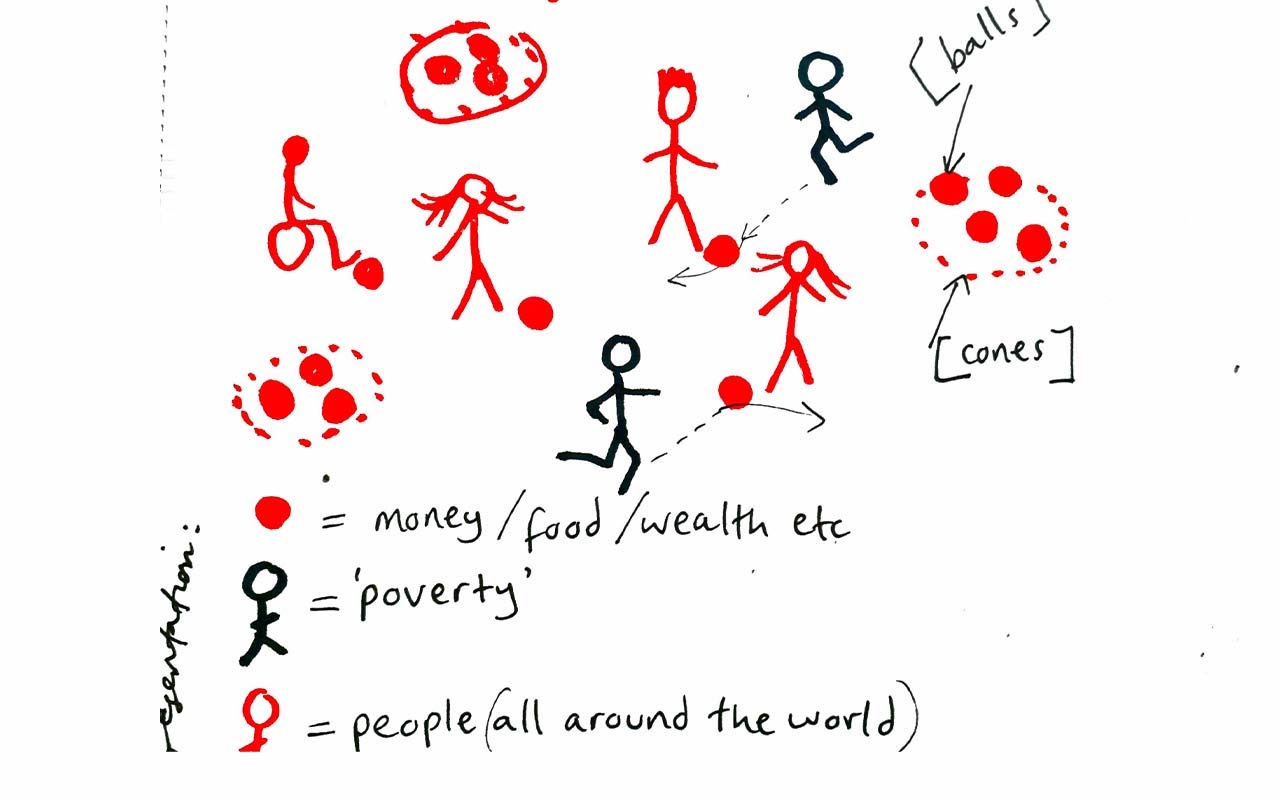 FOOTBALL TIPS for the players keeping possession
Keep looking up to be aware of the defenders (representing "poverty"), the balls and your team mates.

When you have possession of the ball, shield the ball from defenders by ensuring that your body is between the ball and the defender.
Communicate with your team mates to tell them when a defender is approaching, or the direction of support that you can provide for them to pass the ball.
FOOTBALL TIPS For the defenders
Communicate with the other defenders to work as a team to get the balls.
Defend with your body sideways on so that you can react and change direction quickly.
Stay low whilst defending to keep your balance and allow you to change direction quickly.
"Jockey" (means putting pressure on the attackers but not rushing into tackles) to give your other defenders time to come to help you, then you can defend together.
gold coin
Description of the game
We did an exercise where the players where divided in two groups.
Firstly, the first groups had to get in a line and one by one kick at the goal. For every goal the group scored, they earned one gold coin for their team. The group have three minutes to earn as many coins as possible.
Meanwhile, the other group is responsible of constantly providing the kicking group with balls.
If the kicking group were out of balls, I would add 10 extra seconds to their time. When the time passes the two groups will switch.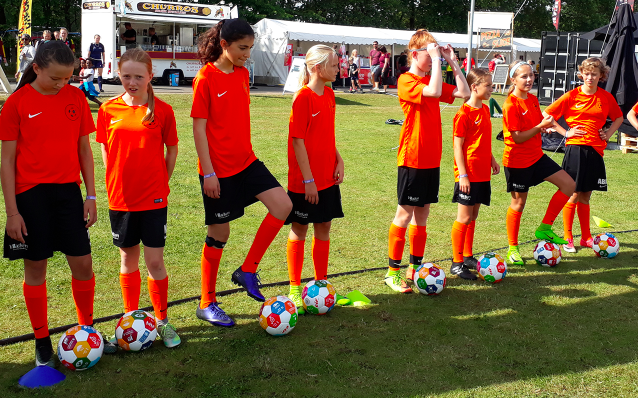 Create Game situation
There are so many great ways to create a game. Allow the players to be quite creative with this by introducing the goal at the beginning of the match and asking them how this could be included:  Do one team have a big goal and the other a small. Do everybody play with a glas of water or change a rule every minute. 
A simple way to bring in the Global Goals when playing a match, is that every time a team scores or make a save, or during a water break they can double their points or get a point by stating a Global Goal and what they could do to help promote this in their community. Easiest to play small side games with 3-6 players, so they can hear each other.
You can always have several games going at the same time. There are some rule ideas under Goal 17.
PUT YOUR TRAINING IMPACT ON THE MAP
If you have time, give the players a chance to talk solutions, and how they them selve can do something in their every day.
How you can help reach no poverty in your community / in the world.
Why should you care about other people's economic situation?
How can we achieve goal 1?
How can one person make a difference?
Discuss how the players as a team drive the change the want.
What other Global Goals is supported when reaching this goal?
Your TRAINING IMPACT counts. Share it here
DID YOU CREATE A NEW IMPACT GAME TODAY?
When you and your players create your own drills for the global goals, please share it. Every game counts.
Describe your game in a drawing (or a small video) and add a few words and send it to us.
As a thank you we will share your Impact Game under the relevant Goal here on the website and of course crediting you and your team!
Your IMPACT GAME counts. Share it here
WANT TO LEARN MORE ABOUT WHAT YOU CAN DO TO SUPPORT THE GOALS?
Our good friends at World's Largest Lesson have done amazing work developing educational material that can be used in schools, clubs and home for children all ages. 
Go to World's Largest Lesson