PLAY FOR GOAL 12
RESPONSIBLE CONSUMPTION
WHAT'S THE GOAL?
Ensure sustainable consumption and production patterns.
By 2030, ensure that people everywhere have the relevant information and awareness for sustainable development and lifestyles in harmony with nature.
By 2030, substantially reduce waste generation through prevention, reduction, recycling and reuse.
By 2030, achieve the sustainable management and efficient use of natural resources.
WHY DOES IT MATTER doing more and better with less?
More people globally are expected to join the middle class over the next two decades. This is good for individual prosperity but it will increase demand for already constrained natural resources. If we don't act to change our consumption and production patterns, we will cause irreversible damage to our environment.
ZERO FOOD WASTE
by Steven O'Reilly, Chelsea FC Foundation, Bangkok
Description of the game
The footballs represent food, the cones represents obstacles, and the goal represent a community.
The players must deliver food to the community without hitting any obstacles.
If they hit an obstacles/cone, then they must leave the ball as 'food waste'.
When the game is over we can see how much food gets to the community and how much gets wasted.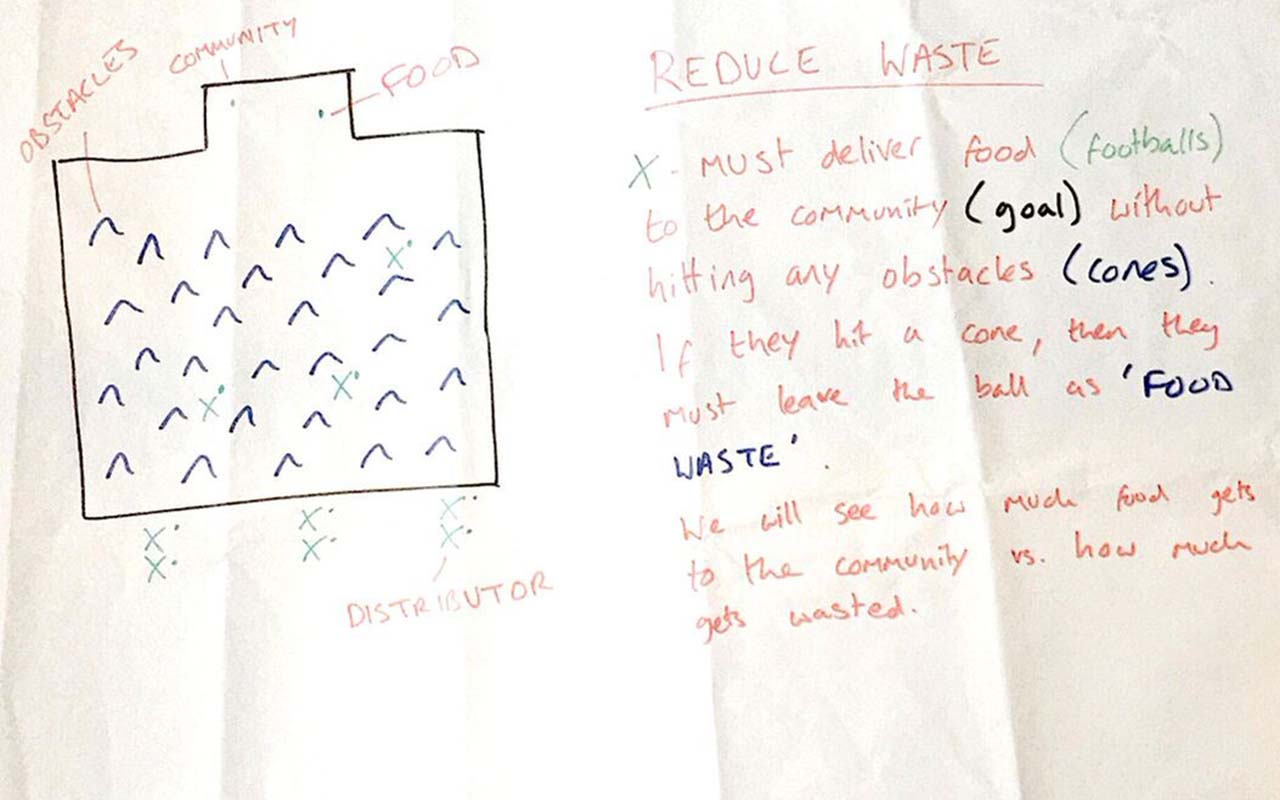 Place all the cones on the field
Each player has a ball and has to dribble the food/ball safely to the goal/community.
If a ball hits a come, the players have to start over and leave the ball as food waste.
VARIATION
Add cones.
Create a specific way they have to dribble.
Make it on time, so each time they have to make it 2 seconds faster. This gives a good talk about food waste created if the food does not get out to people fast enough, before it gets too old.
ADVANCE THE GAME
Replace the cones with players. Now the obstacles are moving and need to be tackled.
ORGANISATION
Players: This game could be run with numbers of players depending on the field size and number of cones.
Area: Everything works perfect.
Material: Balls – Bibs – Cones.
Level: All players
Ideal for age/grade: All ages.
Estimated time fromstart to end: You can use this game as a warm up or a short fun break during a school day and lesson.
FUN WAY TO WARM UP TO THIS GAME
Make the players place the cones on the field. You can ask the players to count how many times they hit the cones in the next 5 minutes and then ask them to do different drills:
Dribble with just one foot.
Keep the ball in the air.
Move on all 4 with the ball not falling off the stomach
HOW TO CREATE A GAME SITUATION
Add a goal and divide the players into two teams and have lots of cones. If your ball hits a cone, your team has to run back to own goal and start again. And the other team gets the ball.
KICK UPS FOR FOOD
by Becca Todd, United Kingdom
Description of the game
If the global production reaches 9.6 billion by 2050 we will need plants to sustain our planets
The farmers need to work hard to produce enough food to all the consumers and meet the demands.
And the farmers need to take care of the food (balls) so it don't get wasted.
Doing kick ups represents the work needed for farming.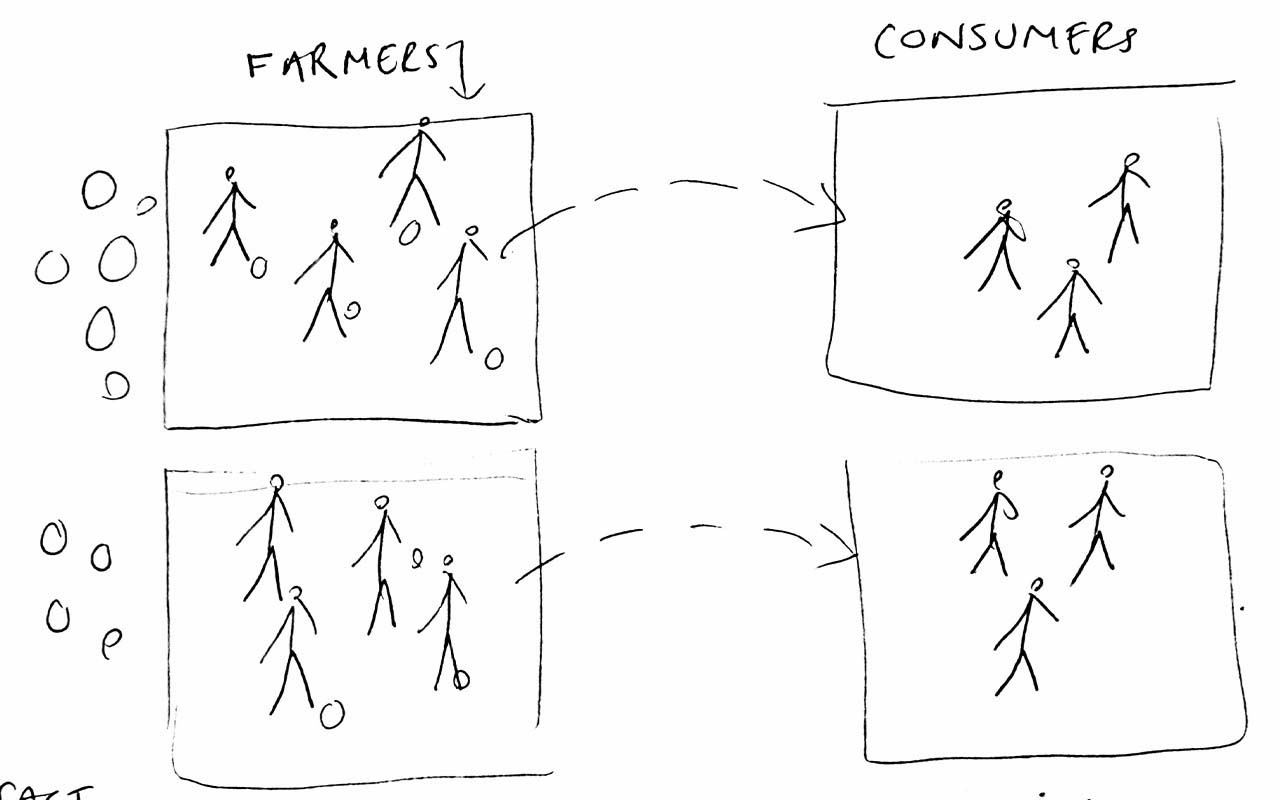 Divide the players into two teams – one team is half farmers half consumers.
Set a target amount of kick ups for the farmers.
Once the farmers have done enough kick ups they can give the balls (food) to the consumers.
The consumers need to keep the balls in the square otherwise it is wasted.
The winning team is the team with the most ball in their square.
Create GAME SITUATION
There are so many great ways to create a game. Allow the players to be quite creative with this by introducing the goal at the beginning of the match and asking them how this could be included:  Do one team have a big goal and the other a small. Do everybody play with a glas of water or change a rule every minute. 
A simple way to bring in the Global Goals when playing a match, is that every time a team scores or make a save, or during a water break they can double their points or get a point by stating a Global Goal and what they could do to help promote this in their community. Easiest to play small side games with 3-6 players, so they can hear each other.
You can always have several games going at the same time. There are some rule ideas under Goal 17.
PUT YOUR TRAINING IMPACT ON THE MAP
If you have time, give the players a chance to talk solutions, and how they them selve can do something in their every day.
How do you avoid food waste? What do your family do with leftovers?
Is it possible for you do reduce waste and recycle? Can you think of a way to do more?
How could you encourage your school/community etc. to integrate responsible consumption?
What other global goals is supported when reaching this goal?
Your TRAINING IMPACT counts. Share it here
DID YOU CREATE A NEW IMPACT GAME TODAY?
When you and your players create your own drills for the global goals, please share it. Every game counts.
Describe your game in a drawing (or a small video), add a few words and send it to us.
As a thank you we will share your Impact Game under the relevant Goal here on the website and of course crediting you and your team!
Your IMPACT GAME counts. Share it here
WANT TO LEARN MORE ABOUT WHAT YOU CAN DO TO SUPPORT THE GOAL?

Our good friends at World's Largest Lesson have done amazing work developing educational material that can be used in schools, clubs and home for children all ages. 
Go to World's Largest Lesson